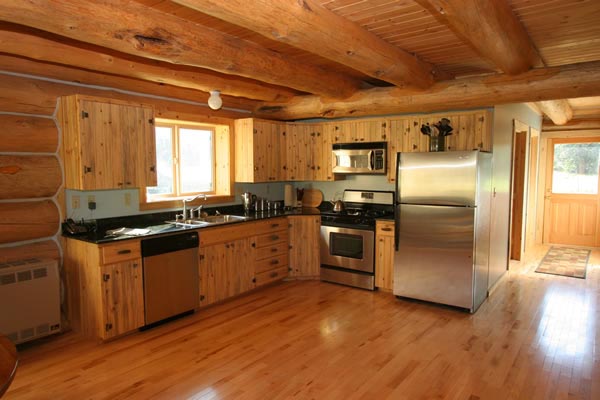 The Betts' House completed in 2006 is a vacation home managed by Kootenai Angler. It is located behind the River Bend Restaurant and overlooks the tail of the home pool and the head end of Jennings Rapids. Spectacular views exist in all directions from the master bedroom. It can accommodate up to 3 couples and is the largest of all the rentals. It has a large kitchen/dining area, living room, 2 full baths and laundry facilities. It also has a unique river rock fire place located in the center of the living room.
Accommodates up to 4 people
Large kitchen, two full baths
Gorgeous views
Largest of all rentals
Our first rental unit, the log home called the Osprey House was built in 1991. It has a total living area of 1500 square feet with an additional large porch overlooking the river. It log shell was built out of locally grown lodge pole pine by a local log smith. There is a big master bedroom with two double beds upstairs with a private balcony and a dormer overlooking the "home pool". Downstairs is a full sized kitchen, dining area, a living room, and a separate bedroom with two single beds. A fully equipped kitchen with a microwave, dishwasher, and a gas barbeque grill are available for your use. It will accommodate from 4-7 persons depending on single/couple arrangements. It has a total of 4 beds. The guest house has a TV/VCR, stereo and a phone.
Accommodates 4-7 persons
1500 square feet
Large porch overlooking the river
Fully equipped kitchen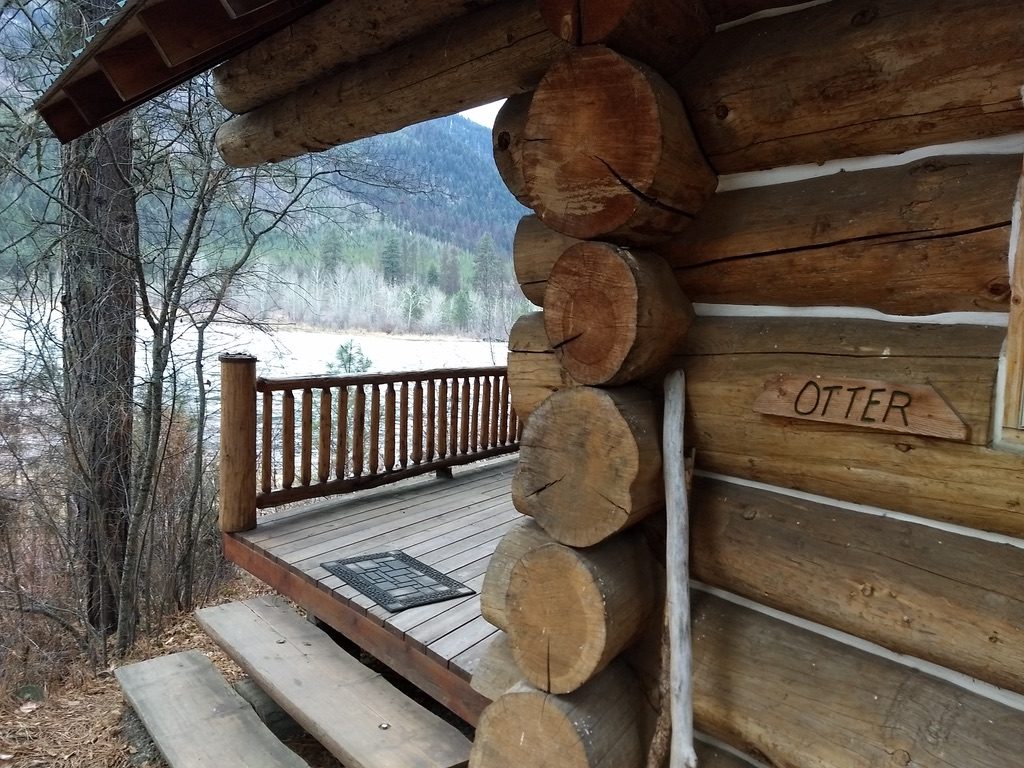 The Otter Cabin built in 2001 out of very unique large Lodgepole pine logs which had an average diameter of 16 inches. It is tucked into the downstream corner of the property, surrounded by trees and graced by very commanding views of Jennings Rapids. The front of this cabin boasts of a large deck with floor-to-ceiling picture windows with breathtaking views. The floor plan is similar to the small cabin without the loft area.
Two full size double beds
Enclosed bath and kitchenette
Phone
Stereo system with surround sound
Wade fishing run right in front of cabin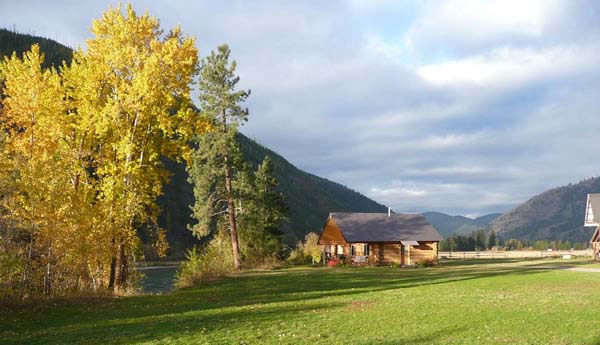 In 1995 we added a small cabin we call the Fisher Cabin, which sits just 50 yards upstream of the guest house. It was built from locally grown Western White pine. It is roughly 600 square feet and a mini-version of our original guest house, ideal for two fishers or a small family. It contains two queen sized double beds separated by an enclosed bathroom. It has a small loft area with two single beds and a small porch overlooking the "home pool" boat ramp. It has a kitchenette area with a kitchen sink, microwave, coffee maker and a small refrigerator. This unit has a stereo system, but no phone.
Accommodates 4-6 persons
600 square feet
Small porch overlooking home pool
Kitchenette