Gary Borger's Blog (2/23/2014)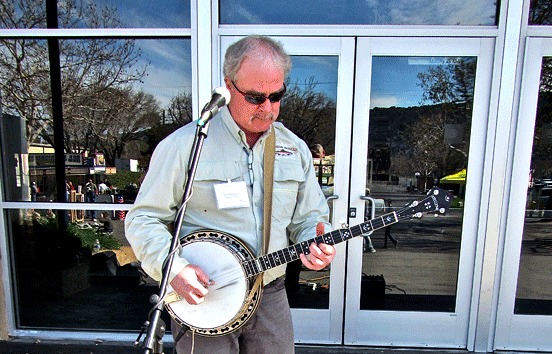 "Pleasanton's Fly Fishing Show 2014"
"My friend, Dave Blackburn, is a professional bluegrass banjo picker as well as a fishing guide and lodge owner in Libby, Montana. He provided great entertainment each noon hour."
---
---
Celebrity Speaker and Musical Guest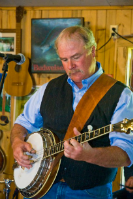 "The Fly Fishing Show 2014"
Denver, CO and Pleasanton, CA
"Dave Blackburn grew up in western PA where his home river was the Raystown Branch of the Juniata.
He was introduced to fly-tying at age 9 by a sixth grade teacher. He was schooled by both Messiah College, along the Yellow Breeches Creek, and the Letort Run. He transferred to West Virginia University where he received his BS in Forest Resource Management while working seasonally for the USFS in the Cloud Peak Primitive Area of Wyoming as a wilderness guard.
He took piano lessons as a child and later applied his ear for music to bluegrass banjo when he got his first banjo at age 17. His banjo mentors include Earl Scruggs, J.D. Crowe, Pete Wernick and Bela Fleck.
He achieved early notoriety in his banjo playing by earning several ribbons at banjo contests in Pennsylvania and West Virginia. His longtime WVU roommate inspired him to add singing to his repertoire, where they formed the group the Skeenes Brothers, later becoming part of the Trapper Canyon Stringbusters based in Greybull, Wyoming. He settled on the banks of the Kootenai River in NW Montana where he pioneered the area's first fly fishing guide service in 1982.
Kootenai Angler now includes 5 river-front log cabin rentals along with a fly shop, the River Bend restaurant and a large outdoor music venue where the Kootenai River "Runs Through It".
Dave travels throughout the country as a speaker where he entertains with his unique combination of fly-fishing and bluegrass music. His current band, the Sheldon Mountain Boys, recently released their first album entitled "Thirty Years on the Mountain".
---
Knee Deep in Montana's Trout Streams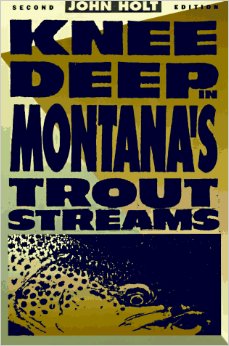 Excerpt from the book "Knee Deep in Montana's Trout Streams" by John Holt 
"I was with Blackburn on a float in late April one year. It was calm and comfortable, and thick, dark clouds that built up in ominous ridges above the mountains rushed off over the Canadian border without doing anything to us.
The river was running typically low and a little off-color, an apparent contradiction in country dominated by spring runoff until you remember the omnipresent influence of the dam.
Even with these seemingly adverse conditions, we still managed to catch and release three dozen or so rainbows with a few cutts mixed in for variety's sake. The fish averaged a pound bit a couple were around three, and those fought like five-pound Missouri River fish.
I love the sound of a singing drag and the sight of backing ripping thought the guides, and these larger trout accomplished the task with ease as they made several long, just below the surface runs downstream before finally being headed.
Very good fish. We also hooked and lost an equal number of trout despite using our considerable angling abilities. These were smart crafty fish. Blackburn suggested the action had been a little on the slow side, but I can think of a hell of a lot of days when even one-tenth of it would have meant success."
---
Great Rivers: Great Hatches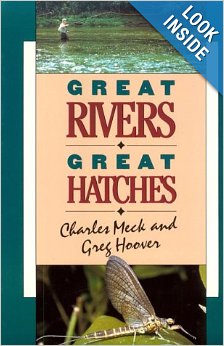 Excerpt from "Great Rivers: Great Hatches" by Charles Meck and Greg Hoover
"At 5:00 P.M. we drifted through yet another heavy riffle, and Dave suggested we try a floating pattern.
Here we say our first two trout rising to an ample supply of dazed pale morning duns on the surface. By the time we had drifted a hundred yards, a full blown hatch of duns appeared on the surface. As weentered a heavy glide, we say over fifty heavy rainbows feeing on the surface. Jerry and I proceeded to pick out rises closest to the boat. A drag-free drift with a Pale Morning Dun sparkle dun induces a strike.
Five trout hit the sparkle duns at the first stop. We then drifted slowly downriver a couple of hundred feet to more risers. There a dozen more rainbows rose freely to the duns. We picked up a half dozen fish at the second stop and proceeded downriver to the next pod.
The action continued for more than two hours. We probably drifted over more than two hundred rising trout and hookied maybe a third of them. What a fantastic float trip. WE still had 6 miles to drift to our takeout point. We arrived in Libby cold but confident that we had just enjoyed and succeeded at one of the most memorable matching-the-hatch episodes we had ever experienced. Certainly one of the best I had experienced in the West."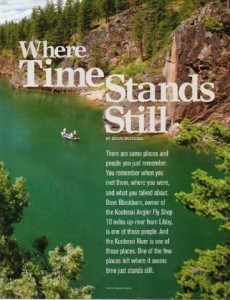 "Where Time Stands Still" by Doug McNicoll
"There are some places and people you just remember. You remember when you met them, where you were and what you talked about. Dave Blackburn, owner of Kootenai Angler Fly Shop 10 miles up-river from Libby, is one of those people. And the Kootenai River is one of those places. One of the few places left where it seems time just stands still."
Click below to read the full article:


---