Kootenai River Flow: 7,000 Cubic Feet per second, 10-12 foot visibility, 57 degrees. Libby Dam outflow is expected to remain at 7 kcfs through August.
Fisher River Flow: 120 cfs
Yaak River Flow: 192 cfs
Thompson River: 219 cfs
Fishing Report: Dry fly fishing is in full effect! We've been having 40 and 50 fish days on guided trips! All stretches are fishing well, as It seems like we have a bunch of fish throughout the system again. We are also seeing a lot more fish in 15-16 " range this year.
The cool, cloudy days have been producing some incredible PMD hatches, ranging in size from 18's up to 12's. There are still tons of Caddis making there way to the river in the evenings, as well. Terrestrials are also starting to bring some fish to the net. We're seeing lots small hoppers in the fields right now, so give it another week or so and hopper fishing should be in full swing. A good Crane Fly pattern should produce fish on the upper stretches throughout the rest of the Summer.
If the sun is blazing and fish don't seem to be looking up, try some deep nymphing under an indicator in the pools and deep runs with boulder gardens.
Hatches: Caddis, PMD's, Chironomids, Crane Flies, BWO's, various Stones increasing in the Troy reaches.
Effective Patterns
Dry: Elk Hair Caddis #14-18, Parachute Adams #14-20, Purple Haze #16-20, Cubby Chernobyl #10-14, Kootenai Crane #10-14, Flying Ant #10-14, Tan Stimulator #8 and 10, Griffiths Gnat, small Golden and Olive Stones, Standard Adams, Red Quill,
Nymph and Streamers: Da Bomb, Beadhead Prince, Pheasant Tail, Stones and Midge Pupa, Soft Hackles. Black/Olive Conehead Wooly Buggers, Kokanee Killers, Thin Mint Buggers, Stone Bomb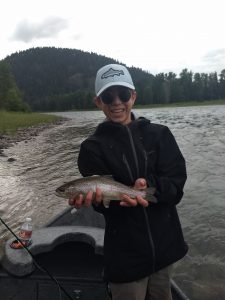 We have guides available, so get yourself on the books and come catch some of these Kootenai River Beauties with us! Also, come in and check out the fly shop for current patterns and all your fly fishing needs (and wants!)