Kootenai River Flow: 20,000 Cubic Feet per second, 6-8 foot visibility, 47 degrees; this will be the peak flow for the 2019 season!
Due to an increase in inflows, releases are ramping up. Libby Dam outflows will increase from 9 kcfs to 11.5 kcfs Saturday morning (5/11) at 0800 MDT.  On Sunday morning (5/12) at 0800 MDT, outflows will increase from 11.5 kcfs to 13 kcfs. On Monday morning (5/13) at 0800 MDT, Libby Dam outflows will increase from 13 kcfs to 15 kcfs. Additional flow increases will occur over the next 10 days, with the potential to reach 18 kcfs outflow from Libby Dam next week.
Koocanusa Inflow: 20,000 cfs
Fisher River Flow: 822 cfs
Hatches: Little Blue Quills, Chironomids, Blue wing Olive, Caddis, large carpenter ants, PMD's, various stones increasing in the Troy reaches.
Effective Patterns
Dry: Elk Hair Caddis #14-18, Parachute Adams #14-20, Purple Haze #16-20, Flying Ant #10-14, Tan Stimulator #8 and 10, Griffiths Gnat, small Golden and Olive Stones, Standard Adams, Red Quill,
Nymph and Streamers: Da Bomb, Beadhead Prince, Pheasant Tail, Stones and Midge Pupa. Black/Olive Conehead Wooly Buggers, Kokanee Killers, Thin Mint Buggers, Stone Bomb
Fishing Report: With water temps rising fish are starting to look up in the warm part of the afternoons. Nymph and Streamer fishing is still most productive. Be on the lookout for flying ants! They can provide some exceptional days of dry fly fishing this time of year. Some rising fish from 2-5pm feeding on Little Blue Quills, etc. Look for the slower water where riffles drop into the deeper runs. Don't snub the whitefish! They are actually in the grayling family and love to take flies and provide early season action, tonic for cabin/spring fever!
We have guides available, so get yourself on the books and come catch some of these Kootenai River Beauties with us! Also, come in and check out the fly shop for current patterns and all your fly fishing needs (and wants!)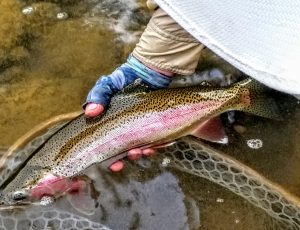 About Dave
Dave Blackburn started tying flies and fly fishing at the age of 10 and has been fishing and guiding the Kootenai River in Montana for more than 25 years. He graduated from West Virginia University with a BS in Forest Resource Management with an emphasis on water quality and aquatic ecology. He traveled westward and ended up in Montana on the banks of the Kootenai in 1981 where he now resides with his wife, Tammy. He is on the board of directors of the Kootenai Valley Trout Club. He has been a past director of the the Fishing Outfitters Association of Montana and the Montana Council of Trout Unlimited. Dave chaired the Upper Kootenai River Preservation Society, which was instrumental in defeating the Jennings Rapids Dam project. Dave is a FFF-certified casting instructor and a contract tyer for Umpqua Feather Merchants. He teaches fly tying and fly fishing at Flathead Community College. His photos and articles have appeared in Flyfisherman, Fly Rod and Reel, and The Flyfisher magazines.